The perspectives of Armenian export expanding.
Ключові слова:
trade potential, export, gravity model, geographical structure of export
Анотація
Our research aims to study the perspectives of foreign trade of Armenia by estimating its trade potential; its practical contribution is stipulated by the current condition of foreign trade and peculiarities of economic development of Armenia and geopolitical situation in South Caucasus. We found that Armenia has exceeded its trade potential in total export and especially in export on product group "Industrial Supplies" with the most its leading trading partners in export. The top-10 countries where Armenia has potential for expansion of export are USA, Turkey, China, Japan, United Kingdom, France, Italy, United Arab Emirates, Hong Kong, and Saudi Arabia.
Посилання
Investment Policy and Foreign Economic Cooperation // http://www.mineconomy.am/ru/14/
List of bilateral agreements signed in sphere of trade-economy // http://www.mineconomy.am/en/14/
Polyakov, E. (2002) "Armenia Trade Diagnostic Study", Poverty Reduction and Economic Management, Europe and Central Asia Region, The World Bank
Source of data: The National Statistical Service of Republic of Armenia // www.armstat.am
Source of data: UN Comtrade // http://comtrade.un.org
Baldwin, Richard E. (1993) "The Potential for Trade between Countries of EFTA and Central and Eastern Europe", Occasional Paper No 44, European Free Trade Association, Geneva
Batra, Amita (2004) "India's Global Trade Potential: The Gravity Model Approach", Working Paper No.151, Indian Council for Research on International Economic Relations
DeRosa, A. et al. (2008) "Prospects for Greater Global and Regional Integration in the Maghreb. Gravity Model Analysis", Peterson Institute for International Economics, Washington, DC
Helpman, E., Melitz, M. and Rubinstein, Y. (2008) "Estimating Trade Flows: Trading Partners and Trading Volumes," Quarterly Journal of Economics, 123
Jošić M. (2008) "Gravity Model and International Trade: the Case of OECD Countries". Challenges of Economic Sciences in the 21st Century, Model of Market Economy for Countries in Transition. P. 47-54.
Mitra, S. et al. (2006) "Armenia. The Caucasian Tiger", Poverty Reduction and Economic Management Unit, Europe and Central Asia Region, The World Bank
Freinkman L., Polyakov E., Revenco C. (2004) "Armenia's Trade Performance in 1995-2002 and the Effect of Closed Borders: A Cross-Country Perspective", Working Paper No. 04/04, The World Bank, Armenian International Research Policy Group
Shepotylo, O., (2009) "Gravity with Zeros: Estimating Trade Potential of CIS Countries," Discussion Papers 16, Kyiv School of Economics
Source of data: United Nations Commodity Trade Statistics Database // http://comtrade.un.org/
Source of data: CEPII database // www.cepii.fr
Source of data: UNESCAP Economic and Social Commission for Asia and the Pacific database // www.unescap.org/tid/rta.asp
Egger, P. (2001) "An Econometric View on the Estimation of Gravity Models and the Calculation of Trade Potentials" WIFO Working Papers No.141
Santos Silva, J. M. C. and Tenreyro, S. (2006) "The Log of Gravity" The Review of Economics and Statistics, November 2006, 88(4): 641–658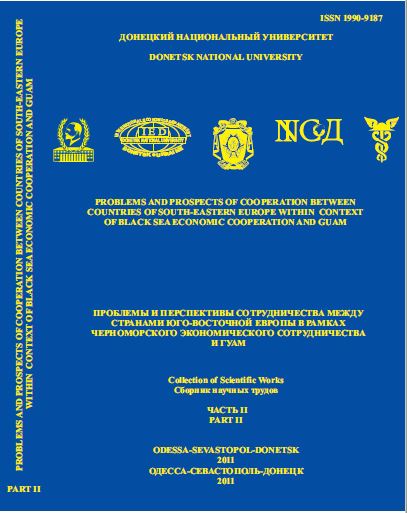 ##submission.downloads##